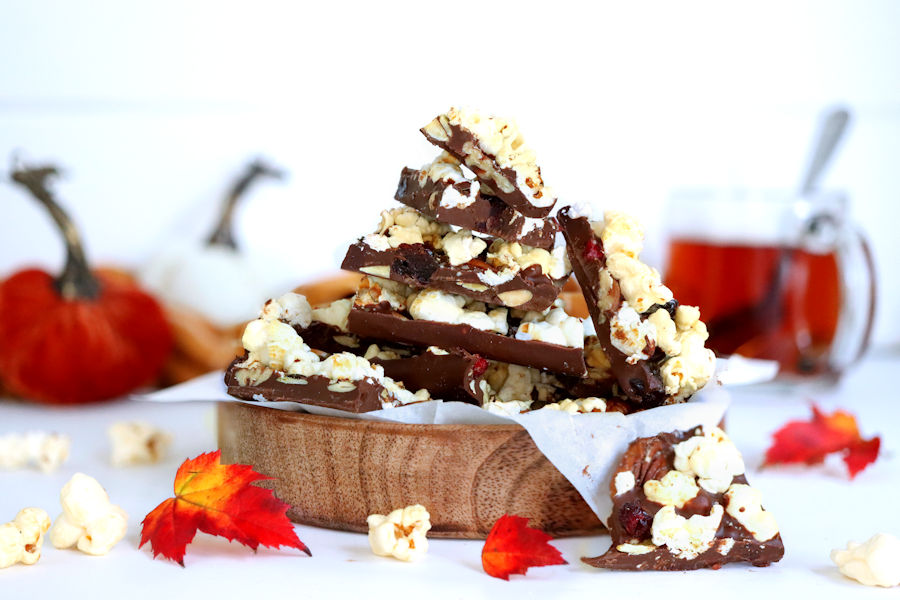 *  We partnered with iherb.com to bring you this post. All the information and opinions presented here are our own. With amazing prices and fast shipping across the globe visit iherb.com for all your health and wellness needs!
Fall is the perfect time for comfort foods, warm nutty flavors, and chocolate! But, for those times you want something sweet, but don't want to make a mess of your kitchen (or wreck your diet), this super easy Fall Popcorn Bark is the perfect way to go. It can be whipped up in less than 10 minutes and with chilling, it can be ready to enjoy after 20. And even though it tastes indulgent, the ingredients in this Chocolate Popcorn Bark are loaded with health benefits. And even better: this recipe couldn't be easier.
To make this Chocolate Popcorn Bark, we simply line a baking sheet with parchment paper and pour melted dark chocolate all over it, spread it out evenly with a spatula and then top it with healthy ingredients like popcorn, pumpkin seeds, pecans, and nutty hemp seeds. Some dried cranberries and dried cherries add a little chewy bite of tangy fruit. To round out the flavor with a sweet and salty finish, we complete it with a sprinkle of maple crystals and sea salt.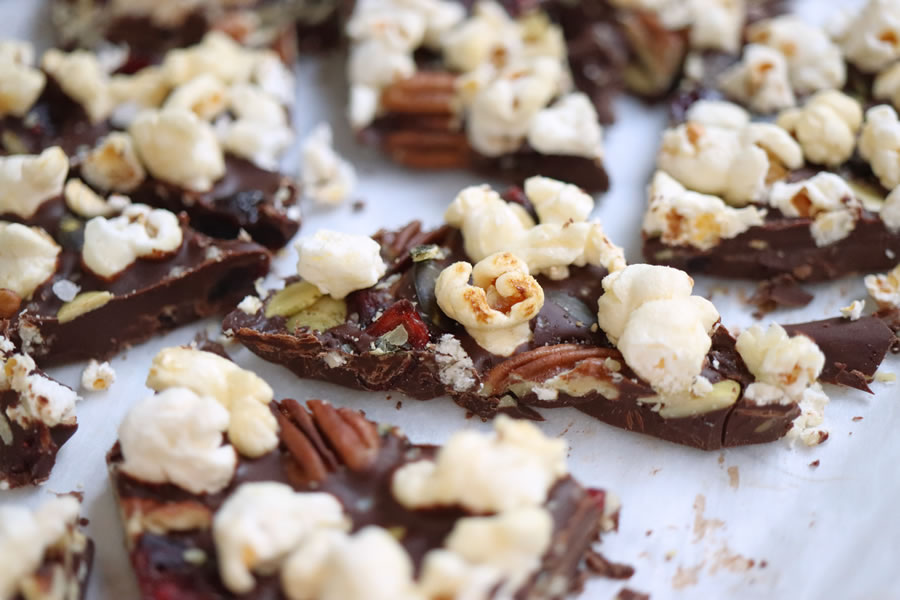 If this sounds like a lot of ingredients to gather not to worry! All the ingredients for this recipe can be purchased online at iHerb, our favorite health, and wellness store! Super convenient, with awesome prices, and super fast shipping iHerb has tons of healthy products besides just supplements and vitamins. They also carry a great assortment of grocery products with everything from coffee and tea to flours, nuts and seeds, snacks, oils, and more. Many of their products are unique and hard to find and you can click here to check out their shop.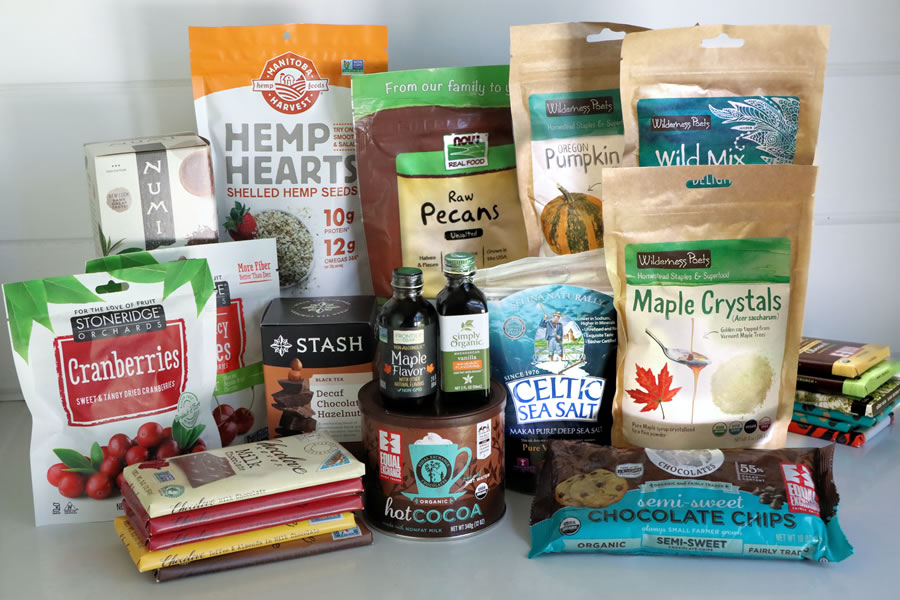 Here are Some of the Health Benefits of the Ingredients in our Chocolate Popcorn Bark:
Dark Chocolate
All chocolate has a special place in my heart, but dark chocolate not only has great health benefits but even a small piece can kick a craving for something sweet. It's loaded with minerals including iron, magnesium, copper, manganese, potassium, phosphorus, zinc, and selenium along with powerful disease-fighting antioxidants. Researchers comparing cocoa and dark chocolate with other fruit found that they had more overall antioxidant activity than even high antioxidant-rich blueberries and acai berries (1). Certain antioxidants in dark chocolate called flavonols have been credited with improved circulation, protecting the skin against sun damage, and improving skin density and hydration. (2)  Dark Chocolate has also been noted for having positive effects on blood flow and for boosting brain health.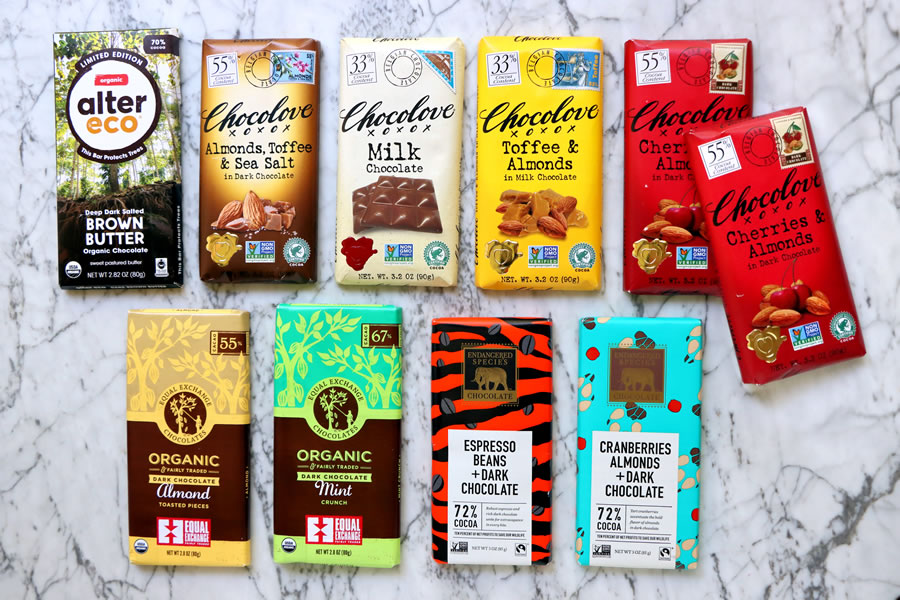 For this Fall Popcorn Bark we used a blend of our favorite dark chocolate bars which can all be purchased online at iHerb. They have a huge selection of everything from chocolate chips to chocolate bars that can be shipped right to your home. Below are some of our favorites which are all fair-trade.
Recommended Products: 
Alter Eco, Organic Chocolate Bar, Deep Dark Salted Brown Butter, 70% Cocoa
Chocolove, Almonds, Toffee & Sea Salt in Dark Chocolate, 55% Cocoa
Chocolove, Cherries & Almonds in Dark Chocolate, 55% Cocoa
Endangered Species Chocolate, Cranberries, Almonds + Dark Chocolate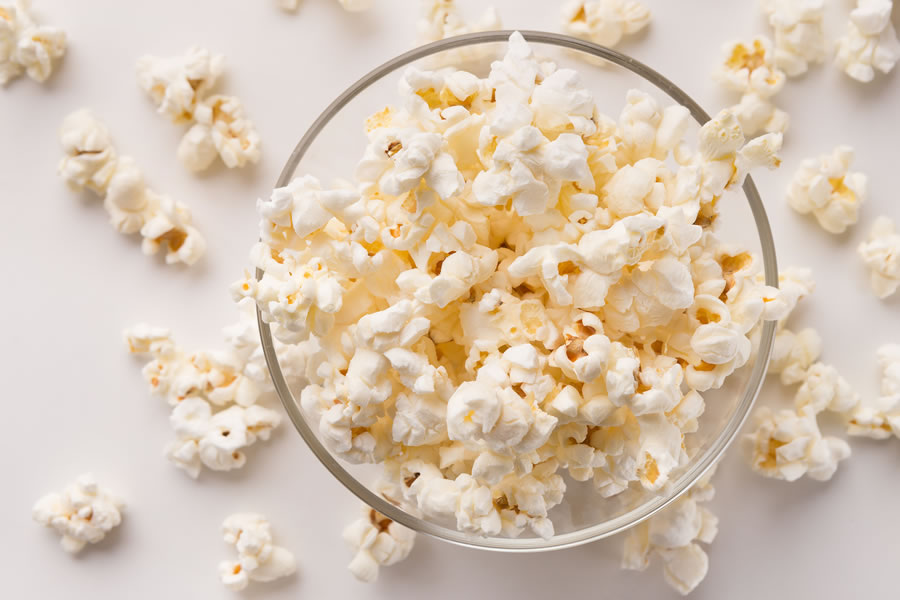 Popcorn
Did you know that popcorn is a really healthy low-calorie snack that is low in fat and sugar? Considered a whole grain, three cups of air-popped popcorn has only 110 calories and just 1 gram of fat. But that's not all. Popcorn is also high in fiber which has been proven to improve digestion and decrease the risk of heart disease. The hull of the popcorn kernels also contain antioxidants like polyphenols that have powerful anti-inflammatory properties that can protect against disease and premature aging. To keep popcorn a healthy snack, opt for varieties that aren't drowning in oils and calorie-laden flavorings.
Pecans
Ranked in the top 20 of over 100 foods ranked by antioxidant levels by the USDA, pecans are little nutty nutritional powerhouses that can help fight free radicals responsible for disease and premature aging. Packing more than 19 vitamins and minerals including vitamin A, vitamin B, vitamin E, folic acid, calcium, phosphorus, potassium, thiamin, and zinc, pecans are also high in fiber which promotes positive digestion. High in heart-healthy monounsaturated fats pecans also have a positive effect on blood pressure, cholesterol, and cardiovascular health. Rich in magnesium with a warm nutty flavor, pecans make a great snack with anti-inflammatory and immune-supporting properties.

Recommended Product: Now Foods Raw Pecans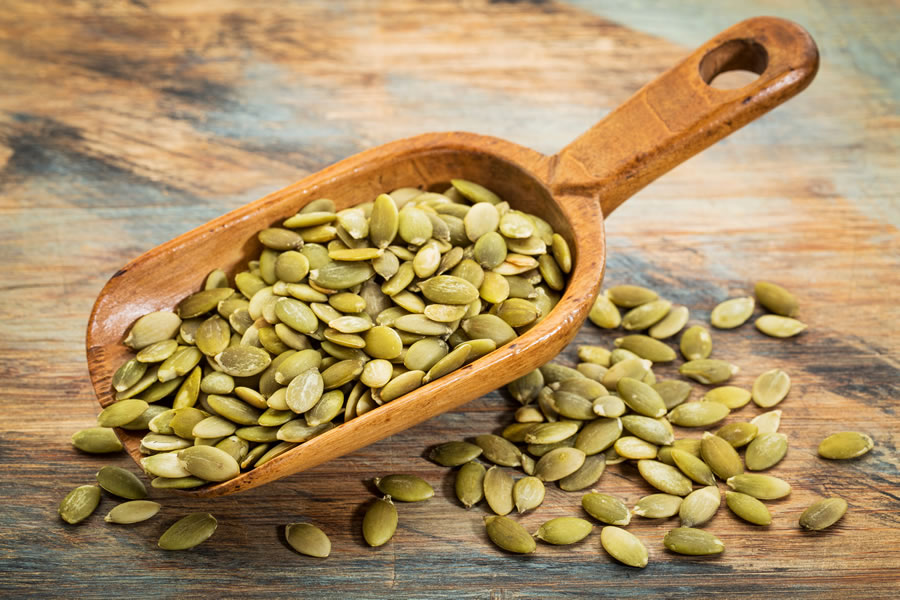 Pumpkin Seeds
Abundant in fall, but available year-round, pumpkin seeds should be a staple in your pantry. They're rich in protein and healthy unsaturated fats, as well as antioxidants that can help neutralize free radicals in the body that can damage cells eventually causing inflammation and disease. Pumpkin seeds are also a wonderful plant-based source of magnesium, manganese, iron, copper as well as zinc which is vitally important for optimal immune function and proper wound healing. A great snack shelled or unshelled, pumpkin seeds are great sprinkled into salads, soups, and of course with chocolate! For this recipe, unshelled is best. The variety by Wilderness Poets is our favorite.
Recommended Product: Wilderness Poets, Oregon Pumpkin Seeds
Hemp Seeds
Sourced from the hemp plant (Cannabis sativa), hemp seeds are unbelievably nutritious for their size. With a mild nutty flavor often described as a cross between a pine nut and a sunflower seed, hemp seeds are super high in protein with about 3 tablespoons supplying about 10 grams. They are also considered a complete protein source, providing all the necessary amino acids which can only be obtained through diet. This is unique for most plant-based sources of protein. Hemp seeds are also rich in minerals like phosphorus, manganese, magnesium, sulfur, calcium, iron, and zinc and have high levels of gamma-linolenic acids (GLA) which have shown in studies to reduce symptoms of PMS and menopause and also reduce inflammation leading to things like heart disease, which is the number one cause of death worldwide. Hemp seeds make the perfect addition to smoothies, oatmeal, salads,  baked goods and go wonderfully with chocolate too.
Recommended Product: Manitoba Harvest, Hemp Hearts, Shelled Hemp Seeds, Delicious Nutty Flavor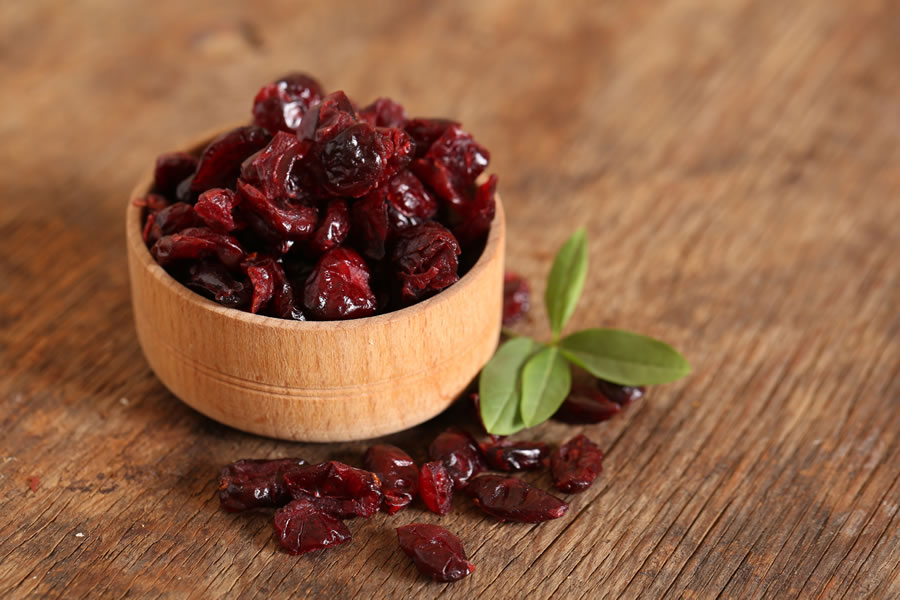 Dried Cranberries
If you love cranberries you know that fall and winter is their time to shine. And dried cranberries are a yummy and healthy way to enjoy them all year round. They're great for adding to oatmeal, trail mixes, salads, stuffing and baked goods and are a natural source of antioxidants and trace amounts of b vitamins.
Recommended Product: Stoneridge Orchards Sweet & Tangy Dried Cranberries
Dried Cherries
Dried cherries are one of my favorite dried fruits.  Cherries are not only high in fiber, but they also have potassium, calcium, iron, magnesium,  and vitamins like A, C, B6, and antioxidants too. And combined with dark chocolate they make a delicious match. They're also wonderful added to oatmeal, muffins and make a great addition to trail mixes.
Recommended Product: Stoneridge Orchards Montmorency Cherries
Maple Crystals
A natural sweetener, maple crystals are simply grains of dehydrated maple syrup. Rich in minerals like manganese, potassium, and calcium, maple crystals are sweeter than cane sugar, yet have fewer calories and a lower glycemic index of 54 versus regular cane sugars score of 65. This means maple crystals raise blood sugar levels slower and may be a good option (in moderation) for those concerned about losing weight or diabetes. With that wonderful fall maple flavor, they're a great alternative for sugar in everything from your morning coffee or teas, to granolas, baked goods, desserts, and anything else that needs a little sweetness.
Recommended Product: Wilderness Poets Maple Crystals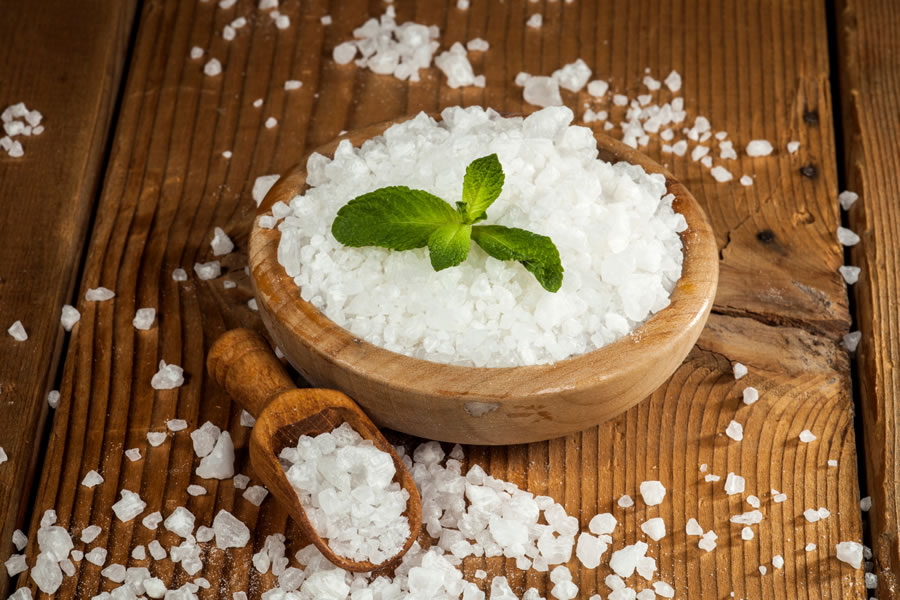 Celtic Sea Salt
Sure you can use any salt for this recipe. But a healthy and delicious option is this raw Celtic sea salt with a clean pure salty taste and naturally super alkalizing pH of 10.22 (table salt is around a pH 7). It's naturally 33% lower in sodium than table salt and also provides 2% of your RDA of calcium and magnesium per serving! And since it's sustainably harvested from unspoiled waters 2200 ft below the ocean's surface, this salt provides even more minerals than typical table salt including potassium, selenium, copper, iron, zinc, manganese, and chromium. This salt will work great in your everyday salt grinder and is a natural way to add trace minerals and a boost of electrolytes to your water or smoothie. And it pairs beautifully with chocolate.
Recommended Product:  Celtic Sea Salt Makai Pure Deep Sea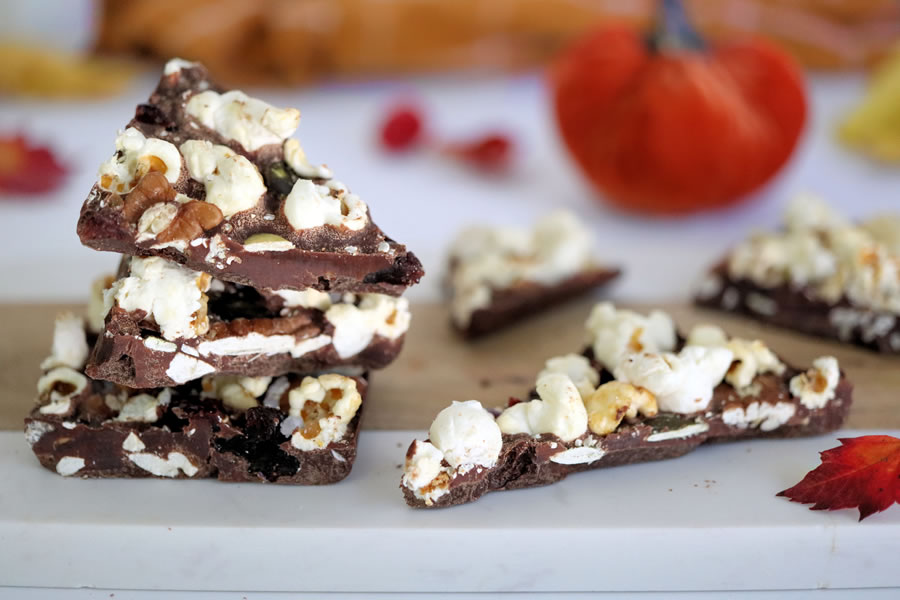 GET THE RECIPE!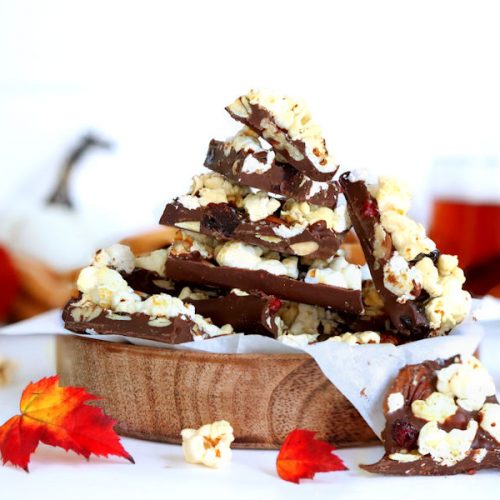 Chocolate Popcorn Bark
A super easy to make chocolate treat, this fall inspired bark is decked out with popcorn, pumpkin seeds, pecans maple crystals, hemp seeds, dried fruits and a sprinkle of sea salt to finish.
Ingredients 
1

lb.

chocolate, melted (dark, milk or a blend)
Bark Toppings
2

cups

prepared maple popcorn (use recipe above or sub. store bought)

1/3

cup

pecans

1/4

cup

pumpkin seeds

1/4

cup

dried cranberries or cherries

1

tbsp

hemp seeds

1

tbsp

maple crystals

1/2

tsp

sea salt
DIRECTIONS 
Line a 9×12 pan with parchment paper. Pour the melted chocolate onto the lined pan and spread out evenly.

Sprinkle the bark toppings over the melted chocolate. Once you have the amount of toppings you're happy with, gently press the popcorn down into the chocolate

Time to chill! Place the pan into the freezer for 20 minutes or until the chocolate is rock solid. Then with a sharp knife, cut the bark into either neat squares or randomly shaped pieces (your choice).

Enjoy your Fall Maple Popcorn Bark immediately! Store in an air-tight container.
Notes
Tip #1 : If you're not into making your own popcorn, substitute a store bought variety. Kettle or buttered popcorn would both be delicious.
Tip #2: If you want to give this bark as a gift, we suggest laying the popcorn in the pan and pouring the dark chocolate over it to submerge the popped kernels. You can then follow the directions as written. This will help seal the popcorn within the chocolate helping it to stay fresh.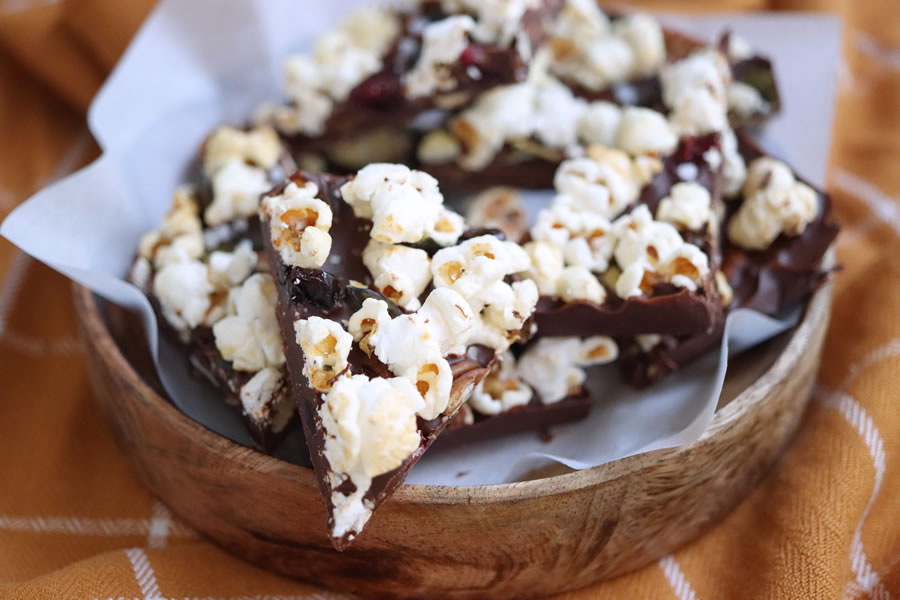 Check out some of our favorite iHerb products from our recent grocery haul:
For Your Mug
Numi Tea, Organic Pu-Erh Tea, Chocolate Pu-Erh
Stash Tea, Black Tea, Decaf Chocolate Hazelnut
Equal Exchange Organic Hot Cocoa
Baking Must-Haves
Simply Organic, Madagascar Vanilla
Great For Snacking
Wilderness Poets, Organic Wild Mix, Song of Delight
Some of Our Favorite Fair Trade Chocolate Bars
Chocolove, Toffee & Almonds in Milk Chocolate, 33% Cocoa
Chocolove, Milk Chocolate, 3% Cocoa
Endangered Species Chocolate, Espresso Beans + Dark Chocolate, 72% Cocoa
Equal Exchange, Organic Dark Chocolate, Mint Crunch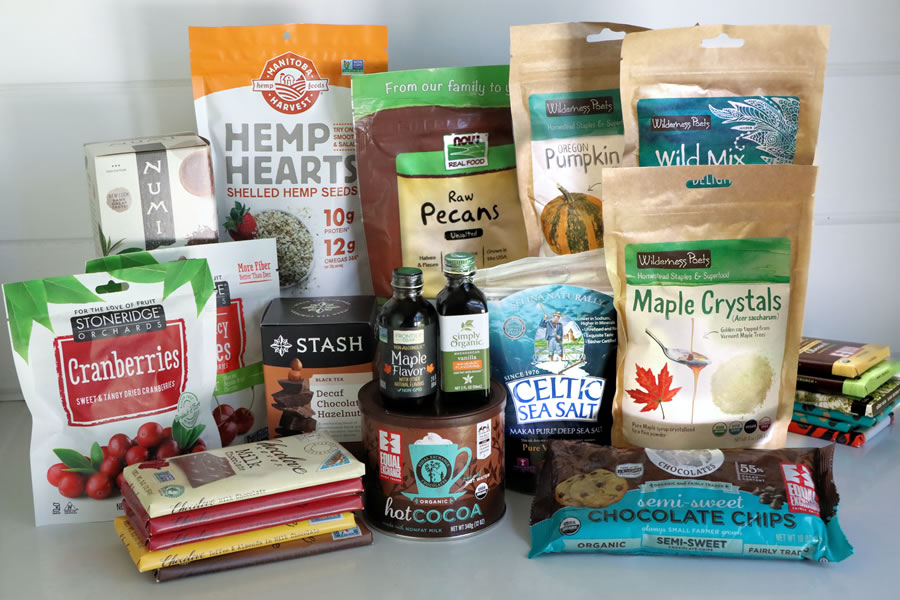 Did you know iHerb carries over 30,000 natural products?
Ships to over 180 countries!
Quickly ships orders from climate-controlled distribution centers to maintain the quality of their products
Is a Google Trusted Store and their customer service team provides support 24/7 in 10 different languages!
Has great prices and you can even earn rewards!
<<?Get a Special iHerb Offer!>>
All customers will get a discount OFF any iHerb order (no minimum purchase) by clicking here.