Asparagus risotto is a creamy Italian rice dish with tender asparagus spears with lots of fresh Parmesan cheese and cooked slowly for a creamy and flavorful side dish. It is a yummy side dish, but add protein like chicken, fish, or steak and it makes a great main dish! It is perfect for springtime when asparagus is in season.
Ingredients You Need for Asparagus Risotto
Arborio Rice: Arborio rice is a type of short-grain rice that is commonly used in making risotto. It has a high starch content, which gives it a creamy, velvety texture when cooked slowly with liquid.
Fresh Asparagus: Choose asparagus with bright green spears that are firm and straight, the tips should be firm and smooth, with no signs of flowering or going to seed. Gently bend the asparagus near the bottom of the stalk. Fresh asparagus will snap easily and cleanly, while older or woody asparagus will be more difficult to break.
Vegetable Broth: If you want this to be a vegetarian dish, then make sure you use vegetable broth. If you aren't worried about that or don't have any on hand, chicken broth works great too.
White Wine: Wine adds acidity, which helps to balance the richness of the butter and cheese, and it also adds flavor to the dish. A dry white wine with a high acidity level like Sauvignon Blanc or Pinot Grigio are good options. If you prefer to leave the wine out, just use broth in its place.
Parmesan Cheese: Parmigiano-Reggiano has a nutty, slightly sweet flavor with a granular texture that melts easily. This makes it an ideal cheese for adding flavor and texture to risotto. Grate the cheese finely and add it at the end of cooking, stirring until it is fully melted and incorporated into the risotto.
How to Make Risotto
Heat broth. In a large saucepan, bring the broth to a simmer and keep it hot over low heat.
Saute. In a separate large skillet or Dutch oven, melt the butter over medium heat. Add the onion and garlic and cook until soft and translucent, about 5 minutes.
Add the Arborio rice to the pot and stir until the grains are coated with the butter.
Broth and Stir. Begin adding the warm broth, one ladleful at a time, stirring constantly and waiting for each addition to be absorbed before adding more. Continue this process for about 18-20 minutes or until the rice is creamy and tender. Add the asparagus about half way through this process.
Add cheese. When the rice is cooked, turn off the heat and stir in the Parmigiano-Reggiano cheese. Season with salt and pepper to taste. Cover the pot and let the risotto sit for 1-2 minutes to allow the cheese to melt and the flavors to meld.
Tips for Making Risotto
Keep the broth hot: The broth should always be hot when adding it to the rice. This helps to maintain the cooking temperature of the rice and prevents it from becoming starchy or mushy.
Stir constantly: Stirring the rice constantly is the key to achieving the creamy texture of risotto. This helps to release the starches from the rice and creates the signature creamy consistency.
Add the broth gradually: Add the broth one ladleful at a time, stirring constantly until the liquid is absorbed before adding the next ladleful. This helps to ensure that the rice cooks evenly and absorbs the liquid properly.
Don't overcook the rice: The rice should be cooked until it is al dente, or tender yet firm to the bite. Overcooking the rice can cause it to become mushy and lose its texture.
Add the cheese at the end: Add the grated Parmigiano-Reggiano cheese at the end of the cooking process, after the risotto is removed from the heat. This helps to prevent the cheese from becoming stringy or clumpy.
Let the risotto rest: Let the risotto rest for a few minutes before serving to allow the flavors to meld and the dish to thicken.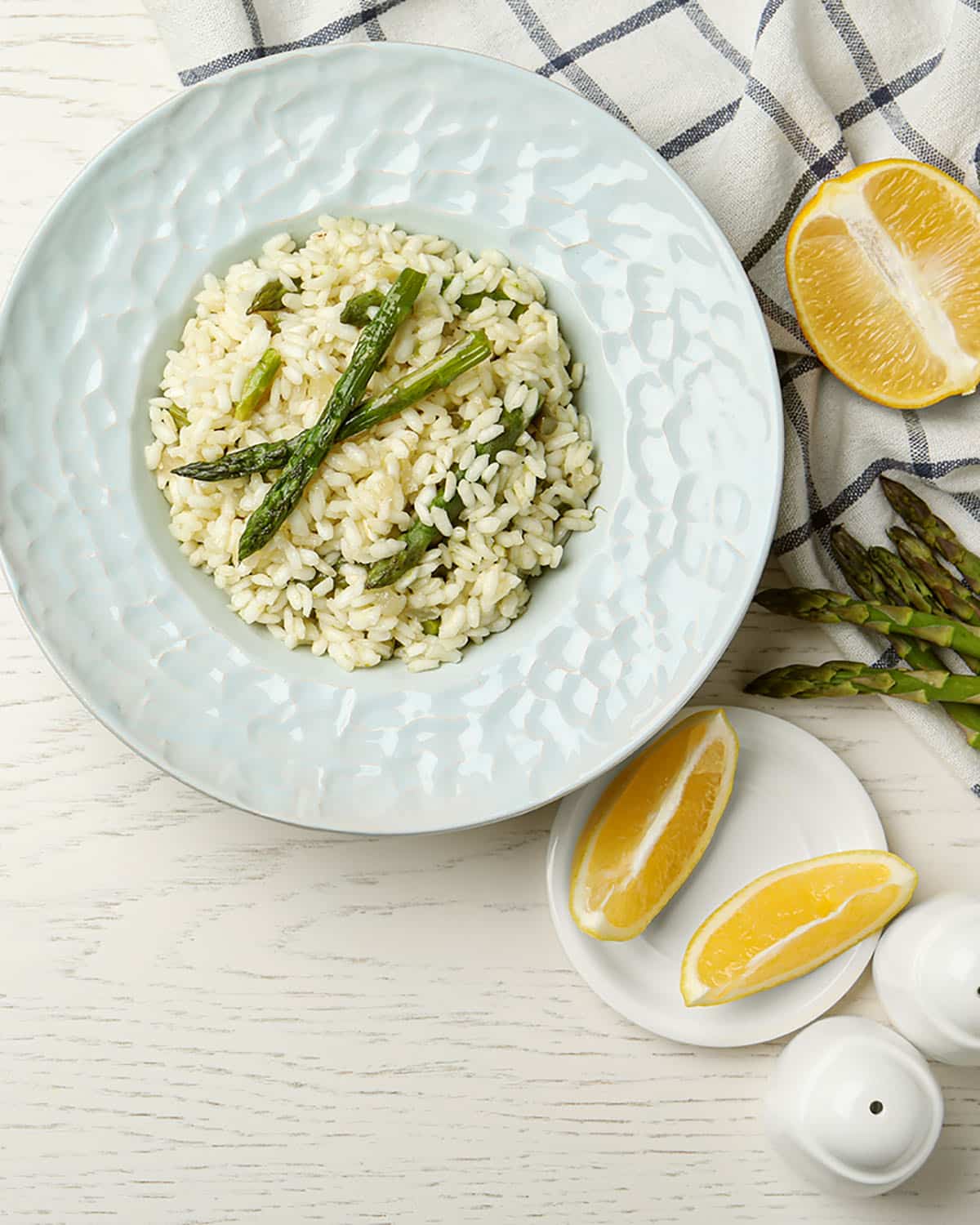 Aparagus Risotto
Asparagus risotto is a creamy Italian rice dish with tender asparagus spears with lots of fresh Parmesan cheese and cooked slowly for a creamy and flavorful side dish.
Servings: 6
Calories: 211kcal
4

cups

vegetable broth

2

tablespoon

unsalted butter

1/2

medium

onion

diced

1/4

teaspoon

salt

more to taste

2

cloves

garlic

minced

1/4

teaspoon

black pepper

1

cup

arborio rice

1/2

cup

dry white wine

1/3

cup

fresh grated Parmesan cheese

1

medium

lemon

zested and juiced
Pour broth into a medium saucepan and warm over low heat.

Rinse the asparagus and cut into bite size pieces. Set aside.

Heat 1 tablespoon of butter in a large deep-sided skillet over medium heat. Add diced onion and saute until translucent. Add garlic and saute an additional 1 minute. Season with salt and pepper.

Add the rice to the skillet and cook an additional two minutes, until the rice begins to shine and is lightly toasted. Add lemon juice and white wine and use a wooden spoon to scrape up brown bits on the bottom of the pan.

Ladle the warm vegetable broth over the rice that the grains are covered. Stir until it has been absorbed. Repeat this step for about 20 minutes, until rice is tender and creamy. Add the asparagus about half way through and continue stirring.

Add one more ladle of broth, along with the asparagus, remaining butter, and half the Parmesan cheese. Stir well to combine and cream the risotto. Season with additional salt and pepper if needed.

Top with remaining cheese and serve warm. Enjoy!
Calories: 211kcal | Carbohydrates: 33g | Protein: 4g | Fat: 6g | Saturated Fat: 3g | Polyunsaturated Fat: 0.3g | Monounsaturated Fat: 1g | Trans Fat: 0.2g | Cholesterol: 15mg | Sodium: 824mg | Potassium: 94mg | Fiber: 2g | Sugar: 2g | Vitamin A: 503IU | Vitamin C: 11mg | Calcium: 62mg | Iron: 2mg
www.superhealthykids.com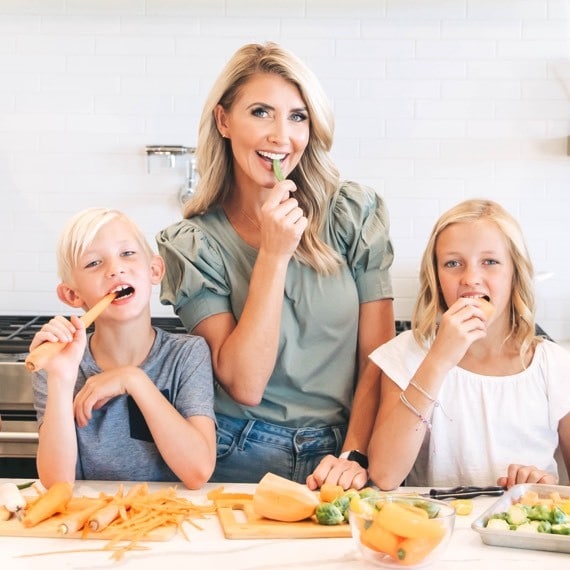 Natalie Monson
I'm a registered dietitian, mom of 4, avid lover of food and strong promoter of healthy habits. Here you will find lots of delicious recipes full of fruits and veggies, tips for getting your kids to eat better and become intuitive eaters and lots of resources for feeding your family.