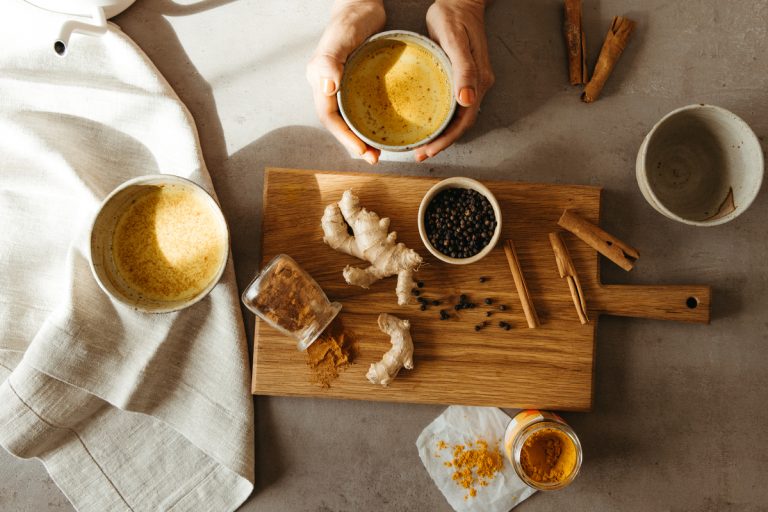 If you google the health benefits of turmeric, you might think you've stumbled upon the secret to a happy, healthy life. From less inflammation to improved memory to pain reduction, the benefits of turmeric look a lot like my personal health goals. But how you may ask, do you add turmeric recipes to your diet? Fear not, we have you covered for every meal of the day to incorporate this golden goodness.
Curcumin is what gives turmeric its yellow coloring, and is full of antioxidants and anti-inflammatory properties. However, this real-life pixie dust is unfortunately difficult for the body to absorb. Enter: black pepper. Piperine, which is found in black pepper, can reportedly lessen nausea, headaches, and poor digestion, but its true power lies in its ability to assist in curcumin absorption. The combo is truly a dynamic duo, so you'll notice that a lot of turmeric recipes also call for black pepper.  
Obviously, adding turmeric to your morning coffee won't be a cure-all for your life, but if you're looking to make it a part of your healthy-living routine, look no further. These turmeric recipes are all you need.
Featured image by Michelle Nash.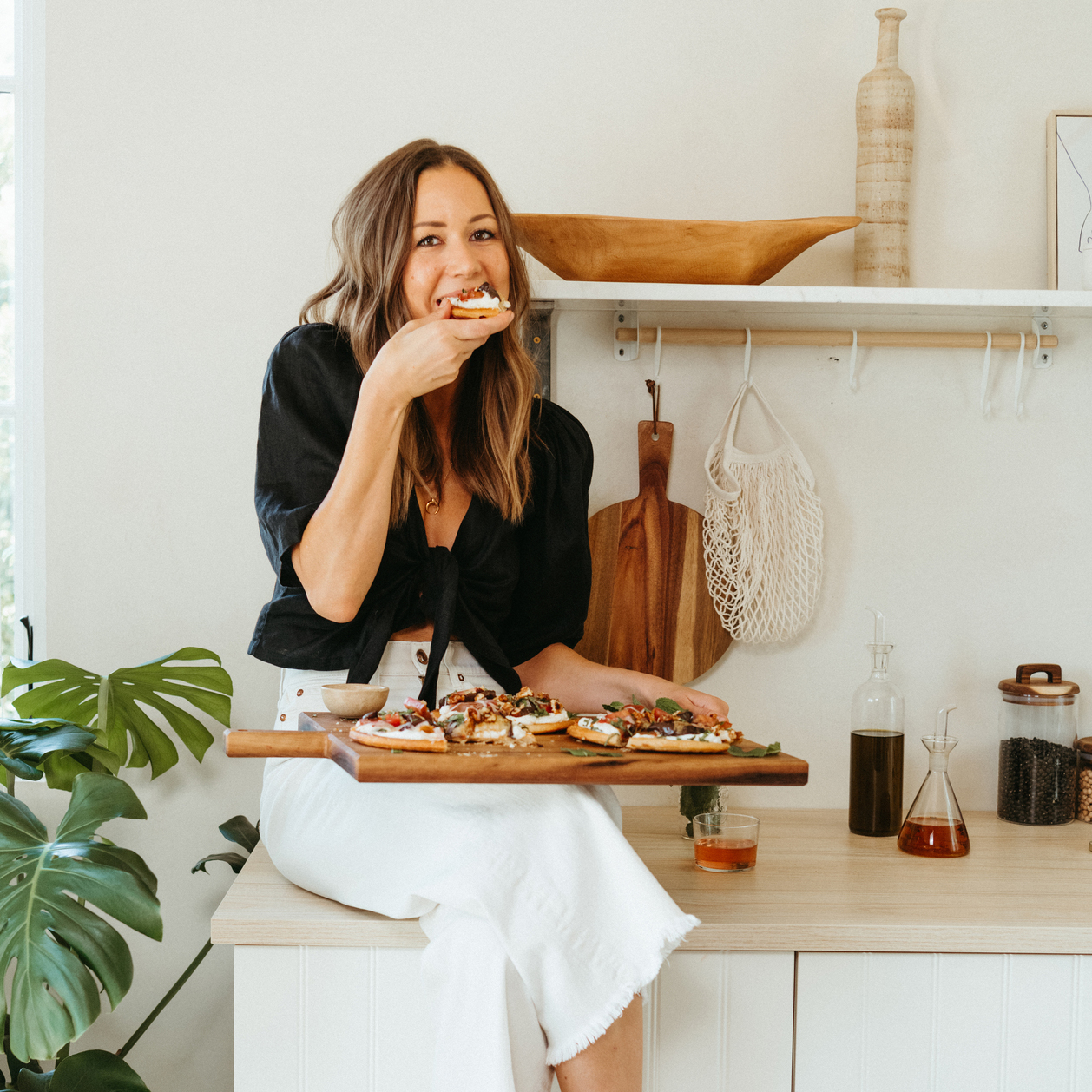 Subscribe
Our Top 10 Recipes
Sign up to receive a FREE E-BOOK of my top 10 most popular recipes of all time!
Thanks for Signing Up!
Oops!
Looks like you're already signed up or your email address is invalid.
Oops!
Looks like you unsubscribed before click here to resubscribe.
12 Turmeric Recipes to Reap Its Anti-Inflammatory Benefits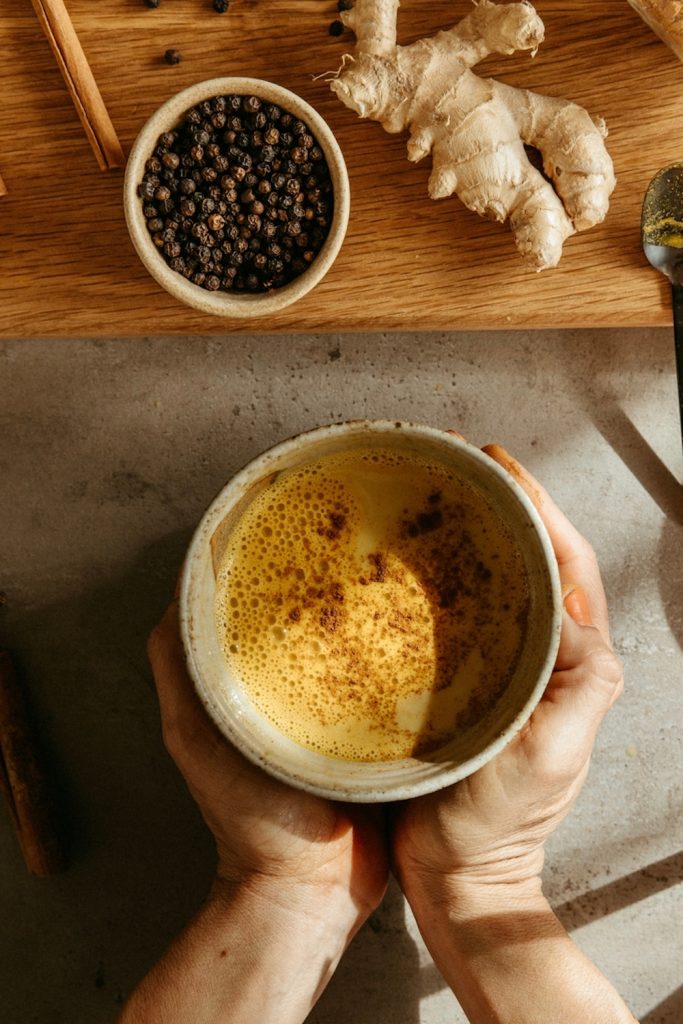 Why We Love It: Herbalist and holistic chef Rachel Musquiz shared this golden milk recipe with us, and now we use it in just about everything. Add it to your morning coffee for a morning immune boost, or sip on it post-workout to enjoy its anti-inflammatory benefits.
Hero Ingredient: Golden milk is a crucial ingredient in curating the best bev.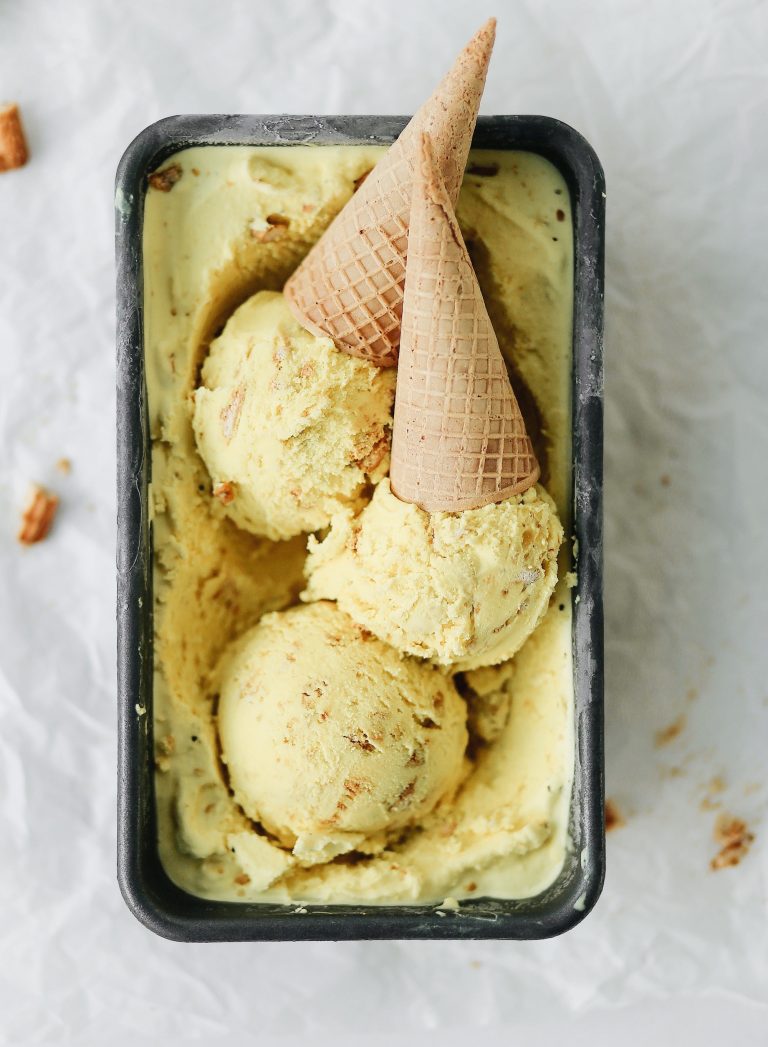 Why we love it: This is a golden milk latte in ice cream form. Haldhi means turmeric, and Doodh means milk, in case you were curious. Suruchi, the creator of this deliciousness (and our resident food editor), calls herself a "self-professed ice cream obsessive," and she gives this recipe the golden seal. The flavor is floral and sweet, with a creeping heat that comes from the ginger and pepper to spice it up. If homemade ice cream is something you're wanting to try, make this recipe, stat.
Hero Ingredient: Don't doubt the power of a cinnamon stick.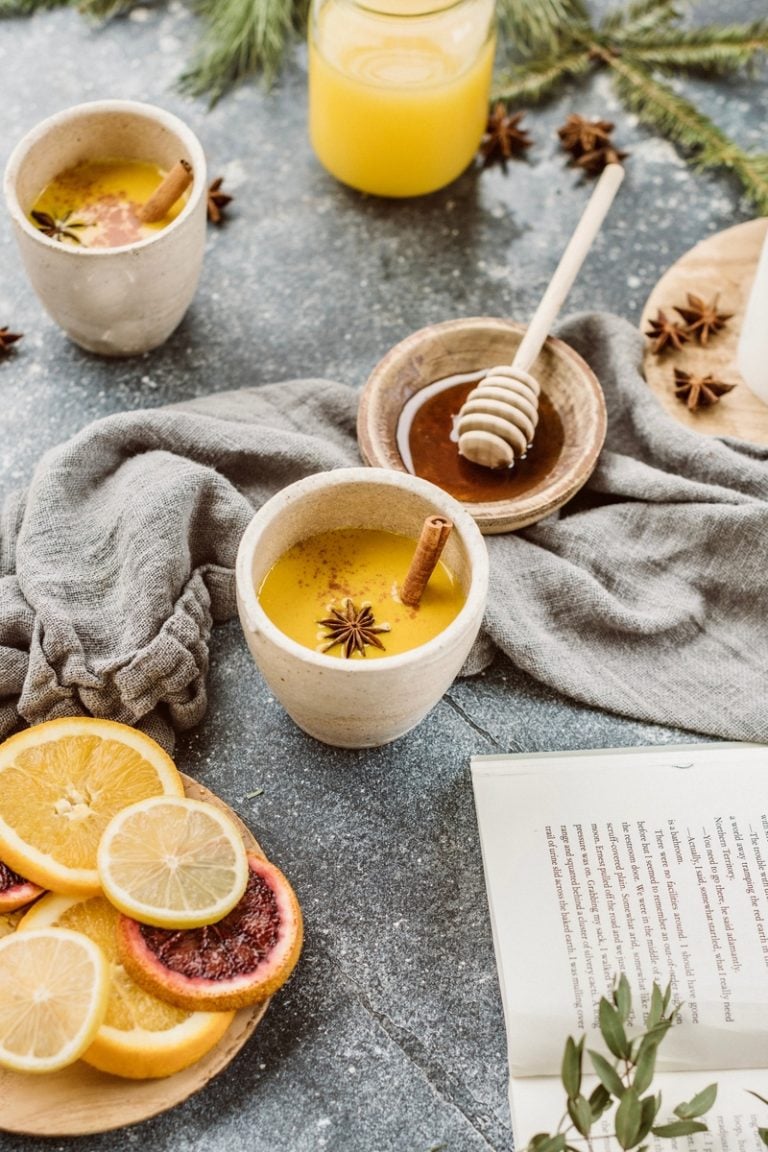 Why we love it: Feeling under the weather? Skip the DayQuil and whip up this wellness elixir. The orange juice provides a boost of vitamin C and electrolytes while the turmeric fights inflammation. It's health in a cup and I could drink it every day, regardless of how I feel. 
Hero Ingredient: Black pepper is a great addition to help kick your cold to the curb.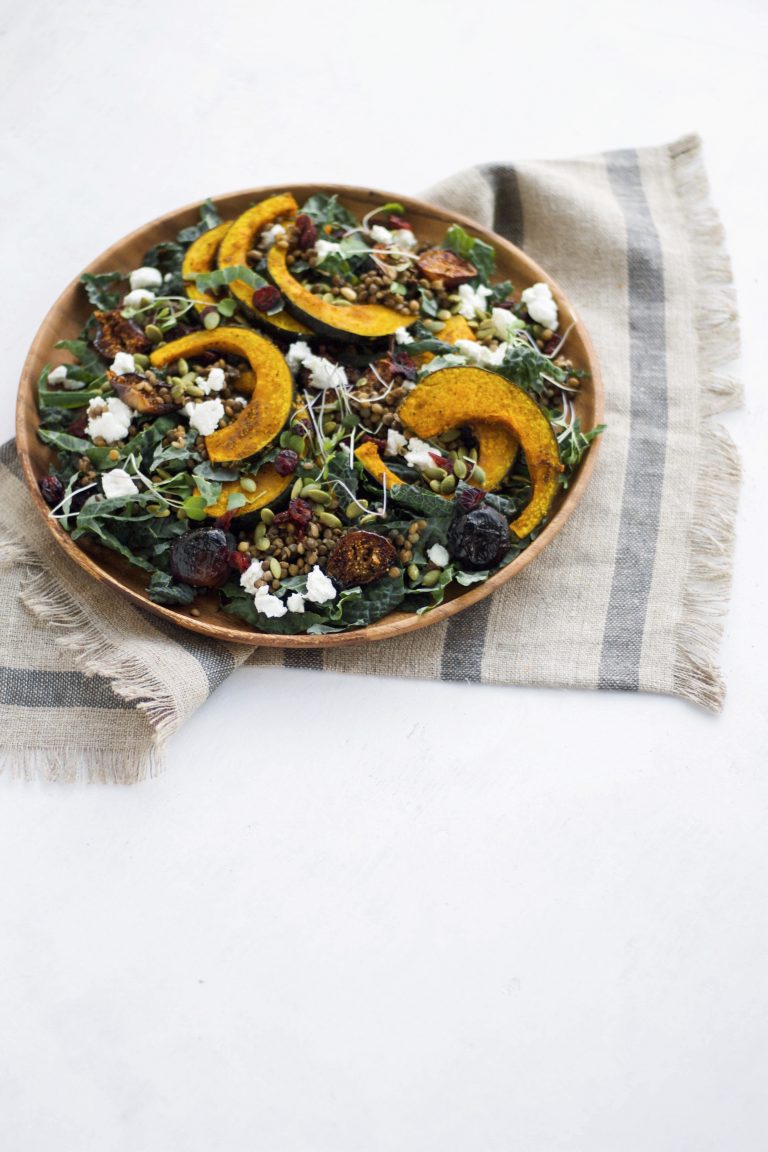 Why we love it: Who doesn't love a delicious, filling, and hearty salad? This recipe uses turmeric to season the squash, which is truly the star of this salad. I could eat the squash alone for an entire meal. But combined with figs, cranberries, goat cheese, and kale? The result is nothing short of a masterpiece.
Hero Ingredient: Rich goat cheese brings this salad together.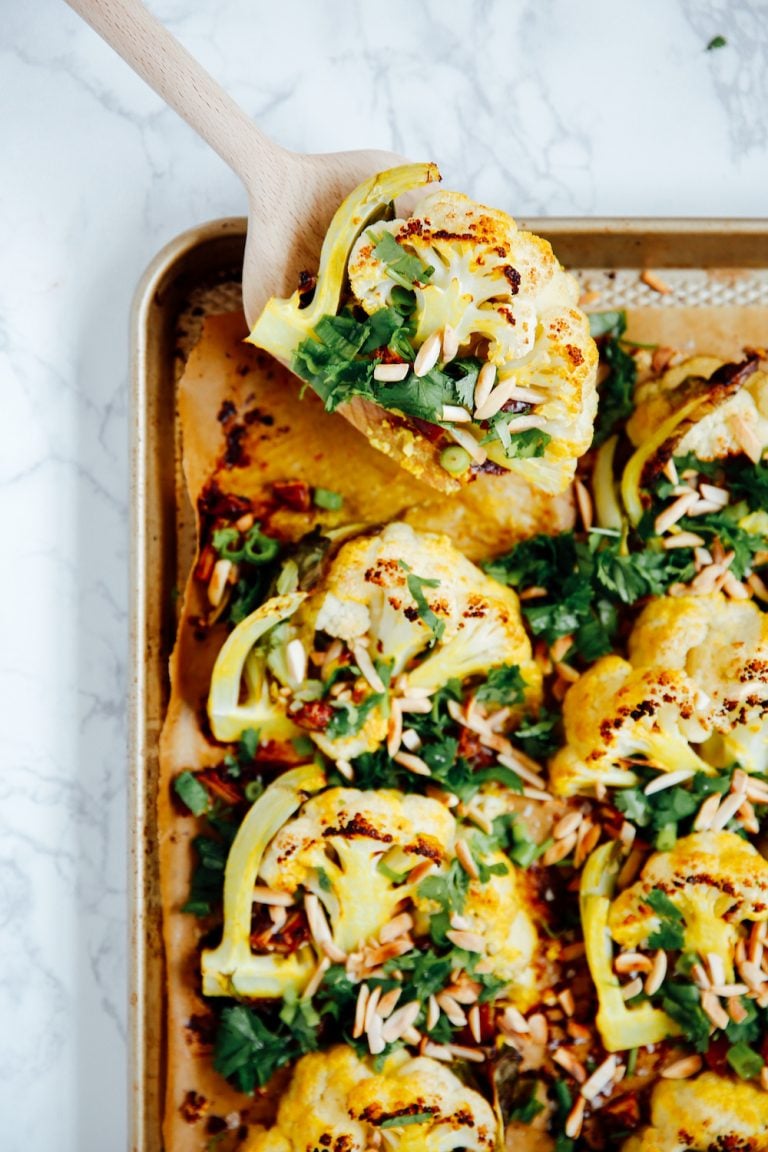 Why we love it: Let me introduce you to your new favorite way to make cauliflower. The tahini gives it that yummy earthy flavor, while the dates add just the right amount of sweetness. And, of course, the turmeric gives it a gorgeous yellow/orange hue, plus all of those great health benefits. Bonus content: This post describes the easiest and best way to serve cauliflower to guests. (You're welcome.)
Hero Ingredient: Toasted slivered almonds add the perfect crunch.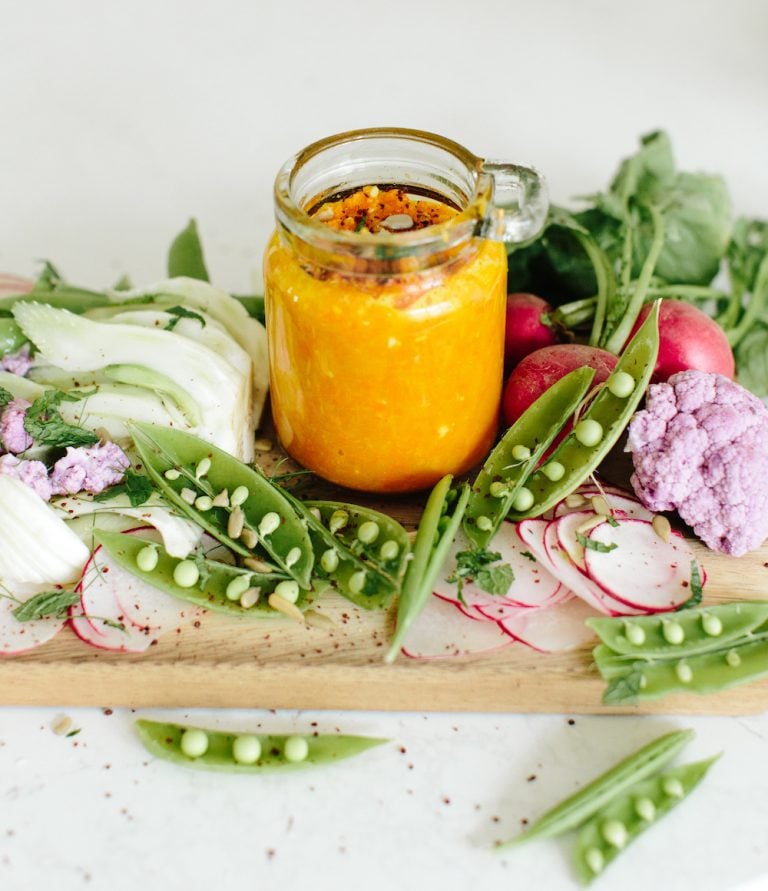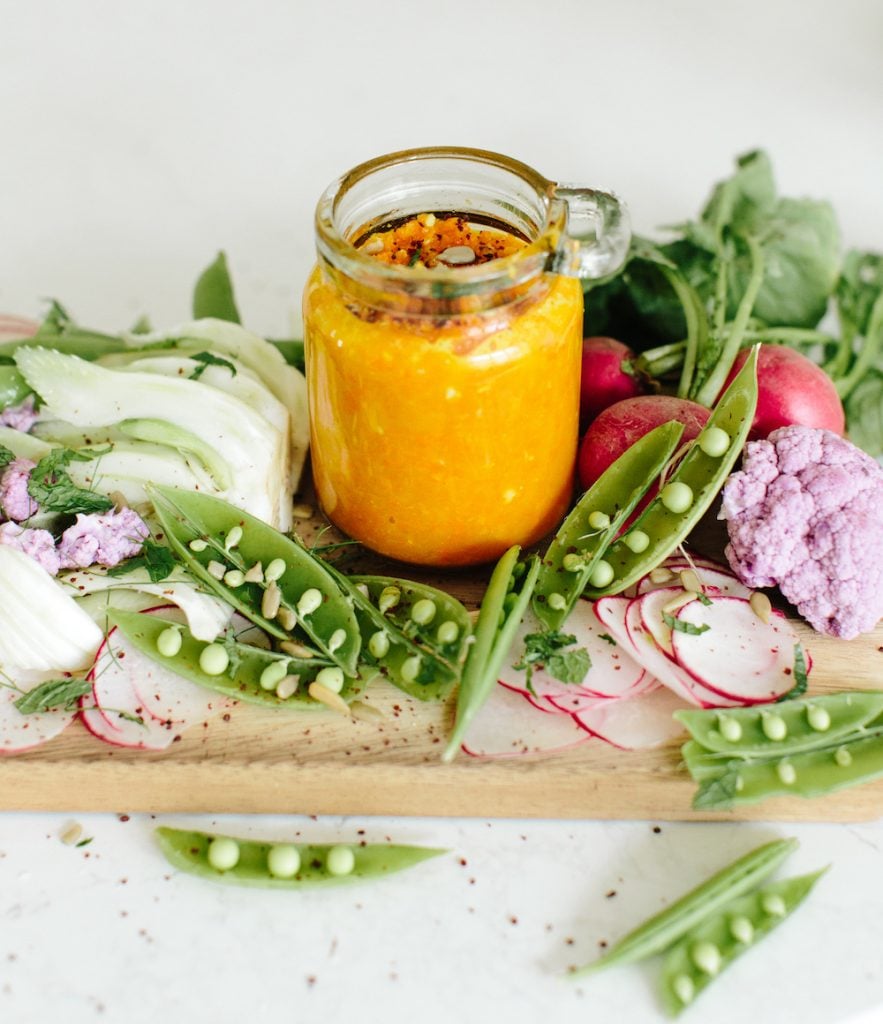 Why we love it: My go-to snack is hummus with celery, carrots, pita… or anything else I find in my fridge/pantry. This legume-free carrot hummus, however, puts my grocery store version to shame. It's full of veggies and spices that give it a major anti-inflammatory boost. Even though homemade hummus may sound intense, this healthy snack comes together way faster than you'd think.
Hero Ingredient: How could you live without garlic in your hummus?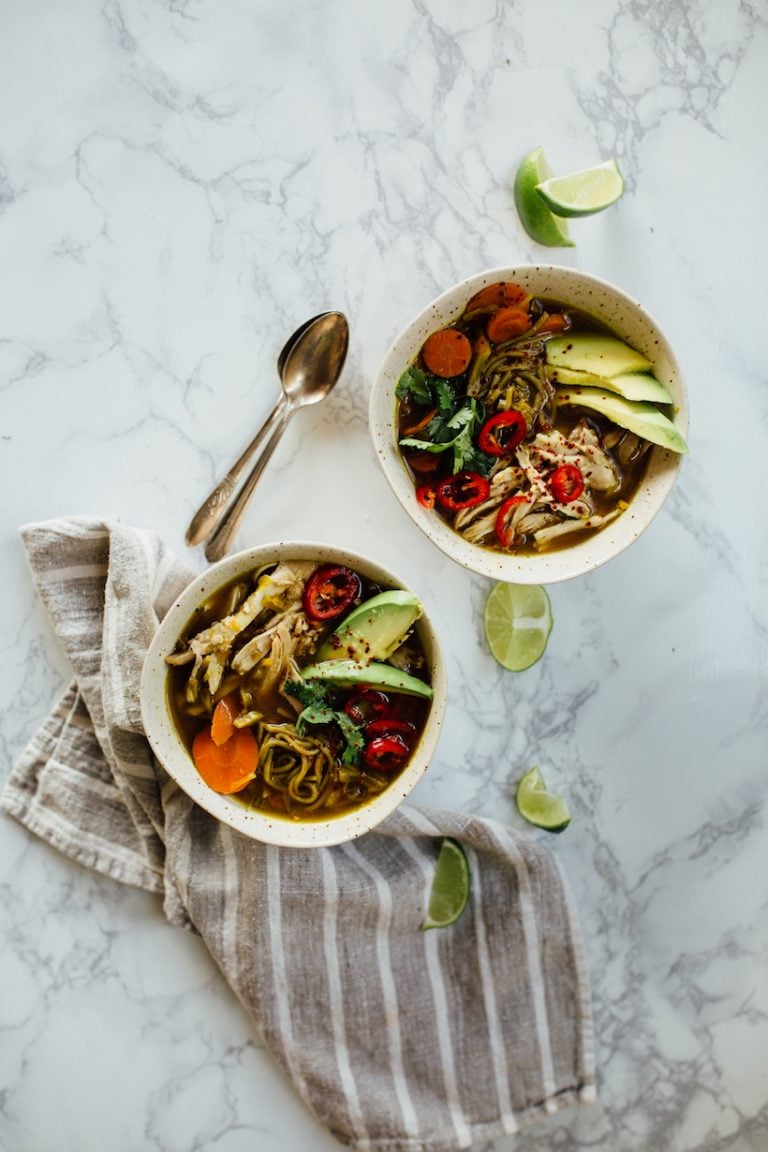 Why we love it: This soup embodies the phrase "food is medicine." It uses a rotisserie chicken to save you some time, but doesn't skimp on flavor… or anti-inflammatory and antibiotic ingredients. The ginger and turmeric, combined with the pepper, of course, go to work in this healing soup. 
Hero Ingredient: Soup and cilantro and an elite combination.
Why we love it: Say hello to healthy, anti-inflammatory baked goods for breakfast. On top of turmeric, these muffins are full of anti-inflammatory berries, walnuts, coconut oil, chia seeds, and apple cider vinegar. They're also totally void of butter and granulated sugar. Plus, as long as you get the substitute flour's measurements right, making these gluten-free is a total breeze.
Hero Ingredient: Frozen fruit of any kind (we love cranberries and blueberries) brightens up these muffins.
Why we love it: This recipe makes the most delicious, spiced almond milk I've ever had. All you do is blend almond milk, turmeric, ginger, cardamom, and coconut oil in a blender, heat and sweeten it in a saucepan, then serve with a shot of espresso. It might just be the easiest way to incorporate turmeric into your everyday diet, especially since you can pre-make and save the milk. Your morning (or afternoon) coffee will never be the same.
Hero Ingredient: A fresh vanilla bean pod may change your life.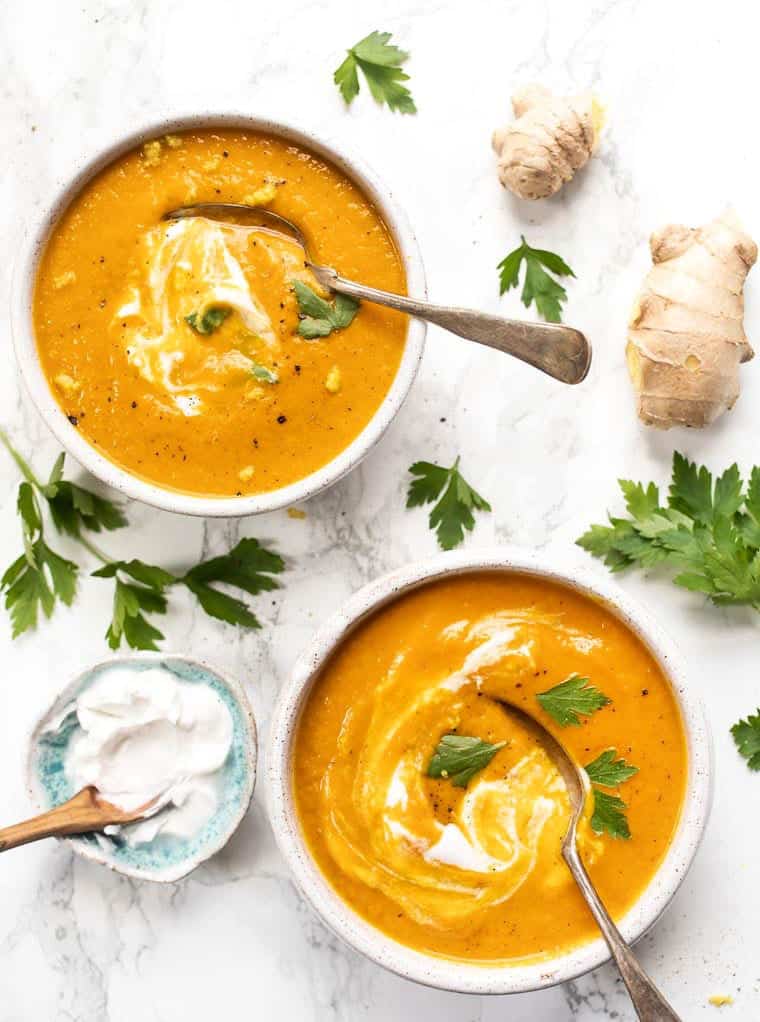 Why we love it: This soup is creamy, comforting, and colorful while being dairy and gluten-free. It's perfect to reset your diet/gut after an indulgent holiday or weekend, as it is great for digestion and easy on the gut. The ginger and turmeric add flavor and anti-inflammatory properties, while the carrots, squash, fennel, and leeks make it hearty and smooth. 
Hero Ingredient: Lite coconut milk keeps this soup from being overly heavy.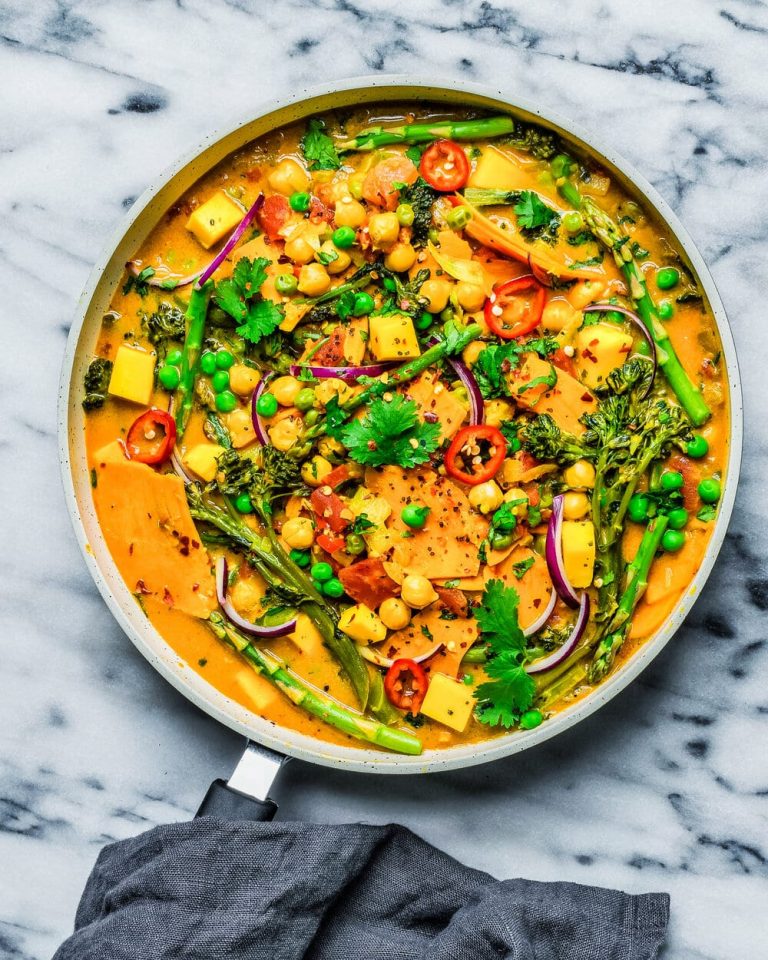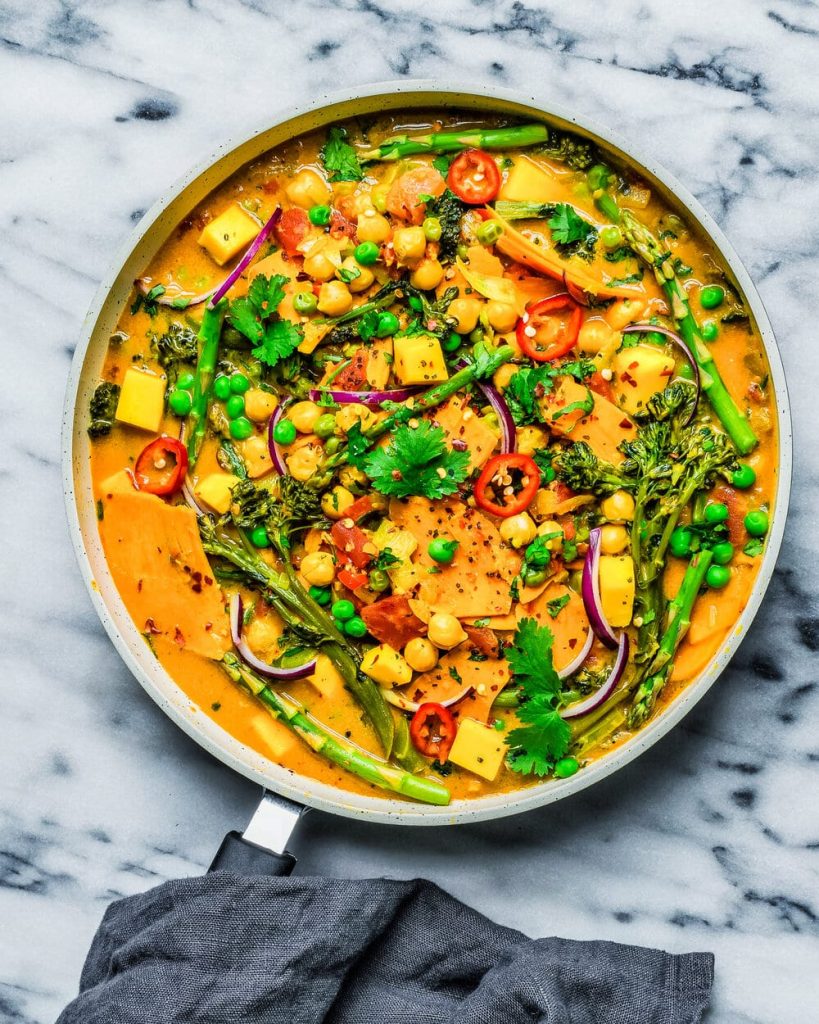 Why We Love It: Curry is a cozy staple we love to enjoy all year long. The health benefits of this recipe are just the cherry on top, with a variety of delicious ingredients that can be easily swapped for whatever is in your refrigerator.
Hero Ingredient: Sweet potatoes are a must-have ingredient.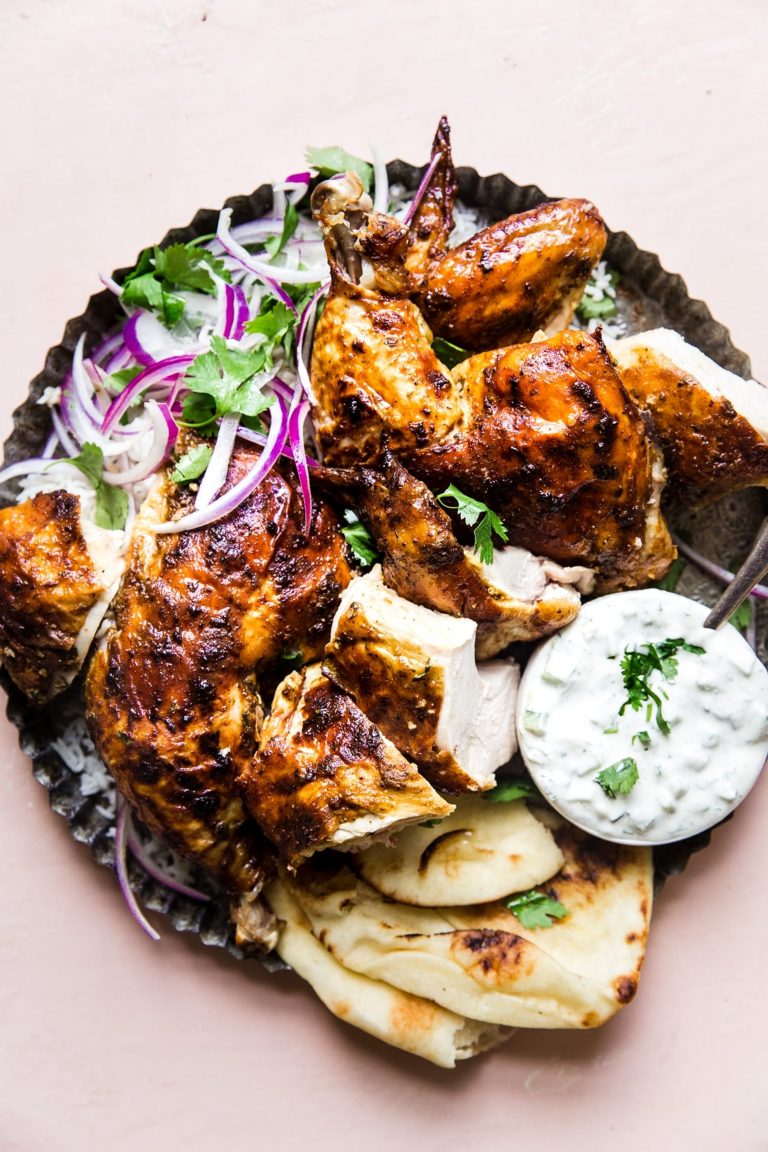 Why We Love It: This whole roasted chicken incorporates warming flavors into a simple marinade. Along with turmeric, the tandoori-spiced yogurt sauce includes immune-boosting ingredients like lemon, fresh ginger, and black pepper.
Hero Ingredient: Greek yogurt is essential in this sauce.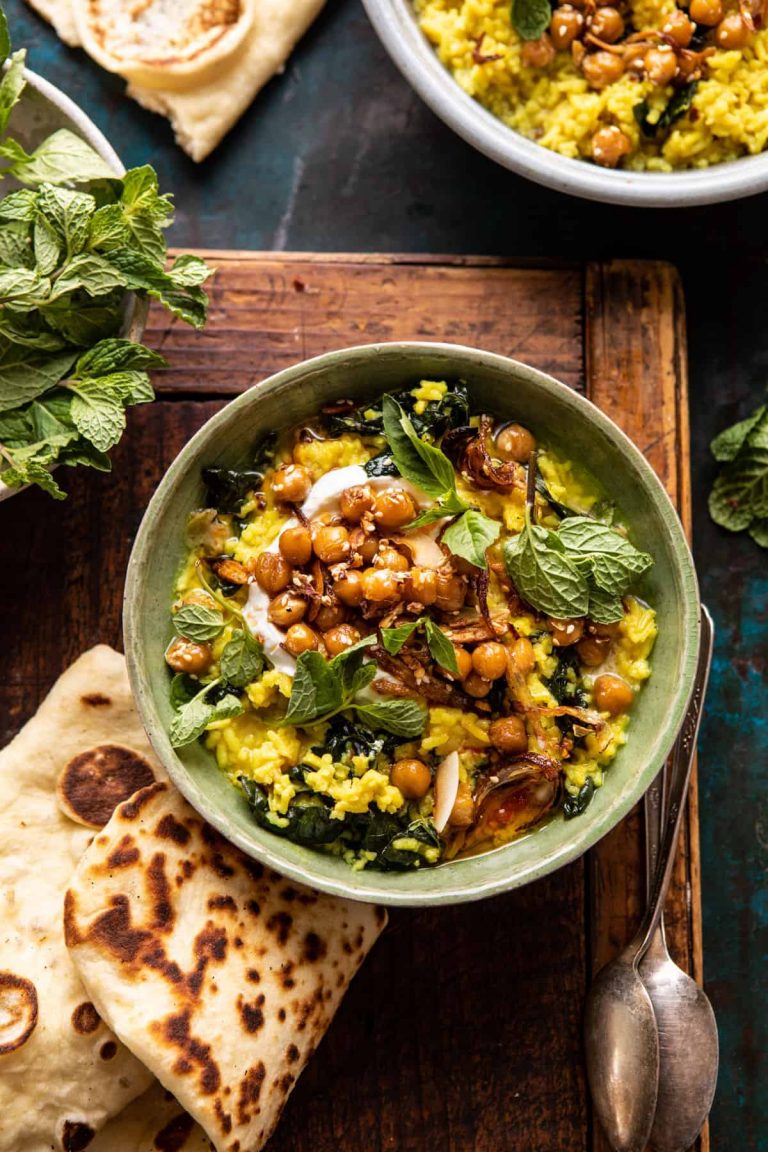 Why we love it: This recipe is the key to an ultra-delicious, warming, vegan comfort meal (yes, it really is possible!). This recipe sits somewhere between a soup and a stew, made creamy with coconut milk and more soup-ish with extra broth.
Hero Ingredient: The crispy spiced chickpeas combined with the turmeric rice make every bite a total flavor explosion.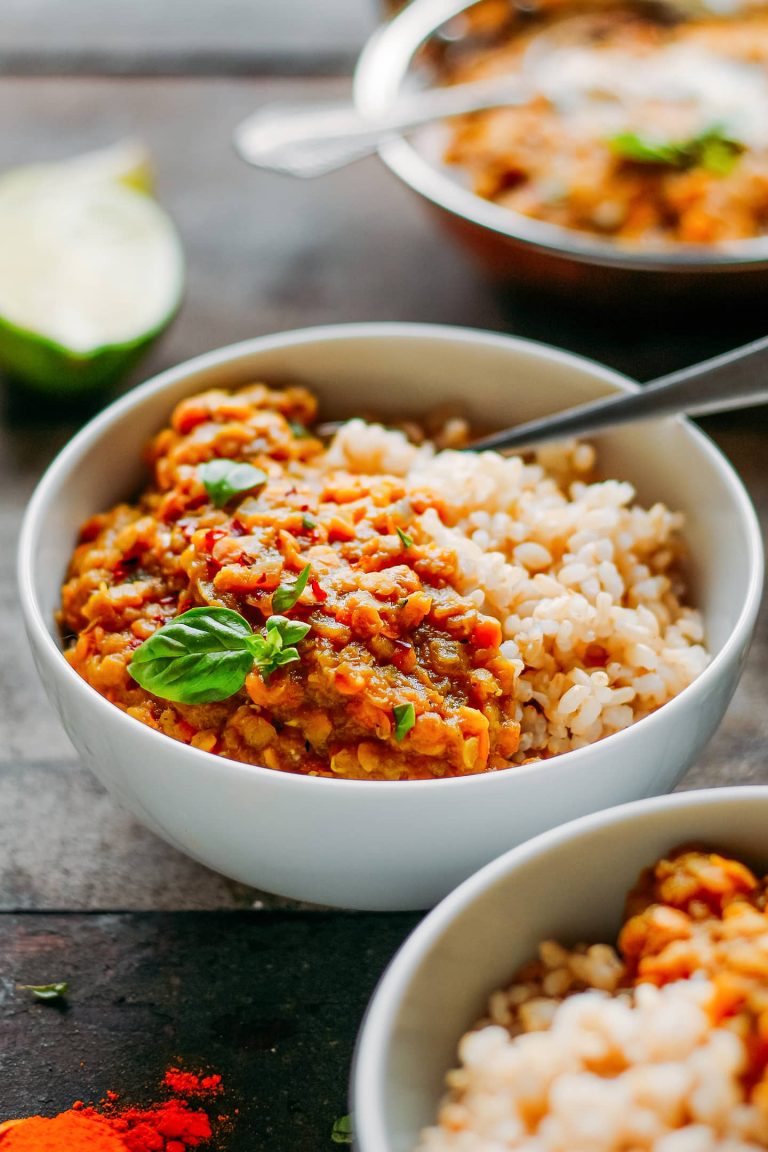 Why We Love It: Eggplant is a great way to increase your protein intake while keeping it plant-based. The smoky flavors in this recipe combine perfectly with the balanced grain base of your choice. Garnish with fresh basil, and enjoy!
Hero Ingredient: Add a sweet touch with dairy-free yogurt or coconut cream.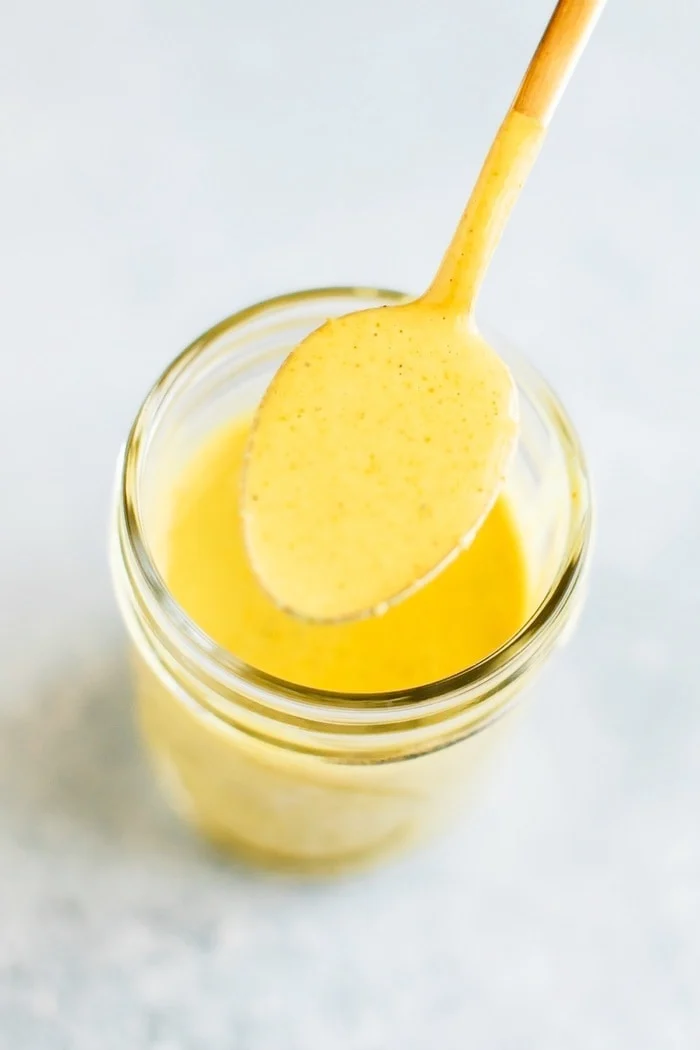 Why We Love It: Tahini dressing is one of my favorite ways to spice up a bowl or salad. Adding turmeric makes it practically irresistible. Bottle this up and keep it in your fridge to use on anything and everything made during your week!
Hero Ingredient: Don't go crazy, but a bit of cayenne goes a long way.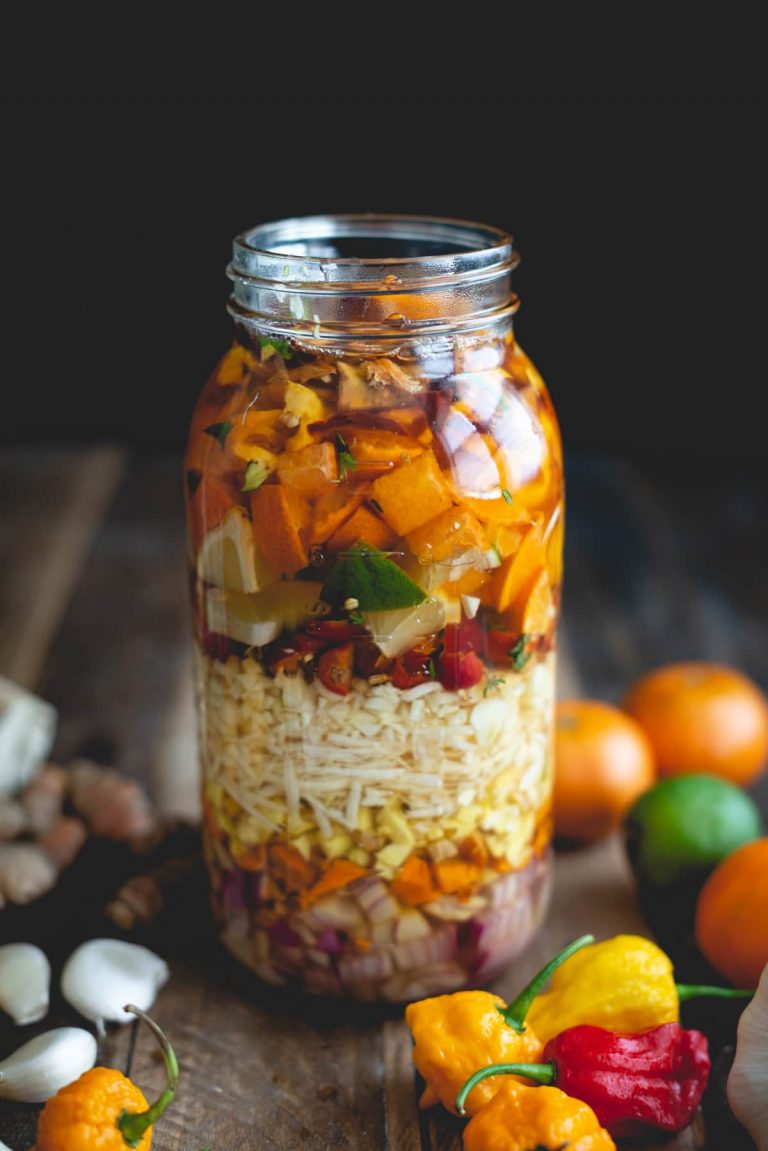 Why We Love It: With an apple cider vinegar base, this cider is sure to give you all the health benefits you've been searching for. Feel free to add in whatever medicinal ingredients you may have, but this recipe recommends rosehips, raw honey, and of course, turmeric!
Hero Ingredient: Elderberries are an unmatched ingredient.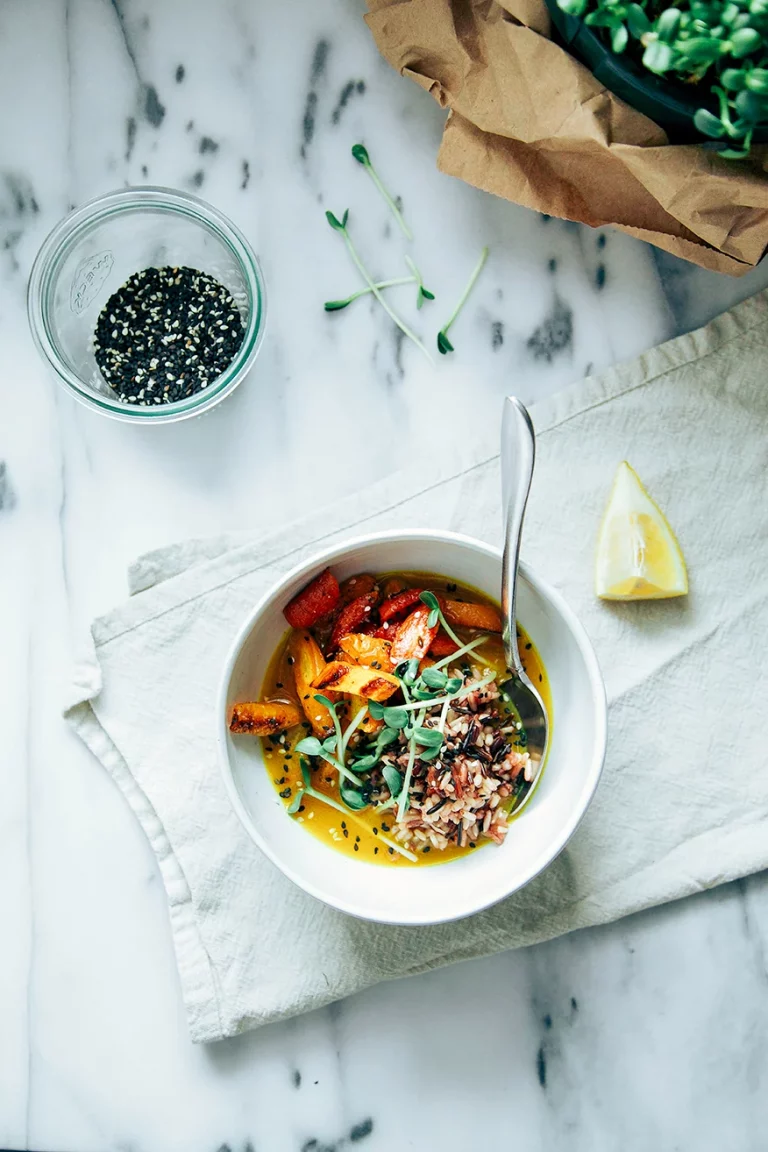 Why We Love It: When a delicious soup recipe meets a hearty bowl, the result is a nutritious and filling recipe. Add a bit of chili for heat, or keep it sweet with a roasted root, but whatever you choose, it's sure to be undeniably delicious.
Hero Ingredient: Juice from 1/2 a lemon makes this bowl tangy and meets your daily intake of vitamin C!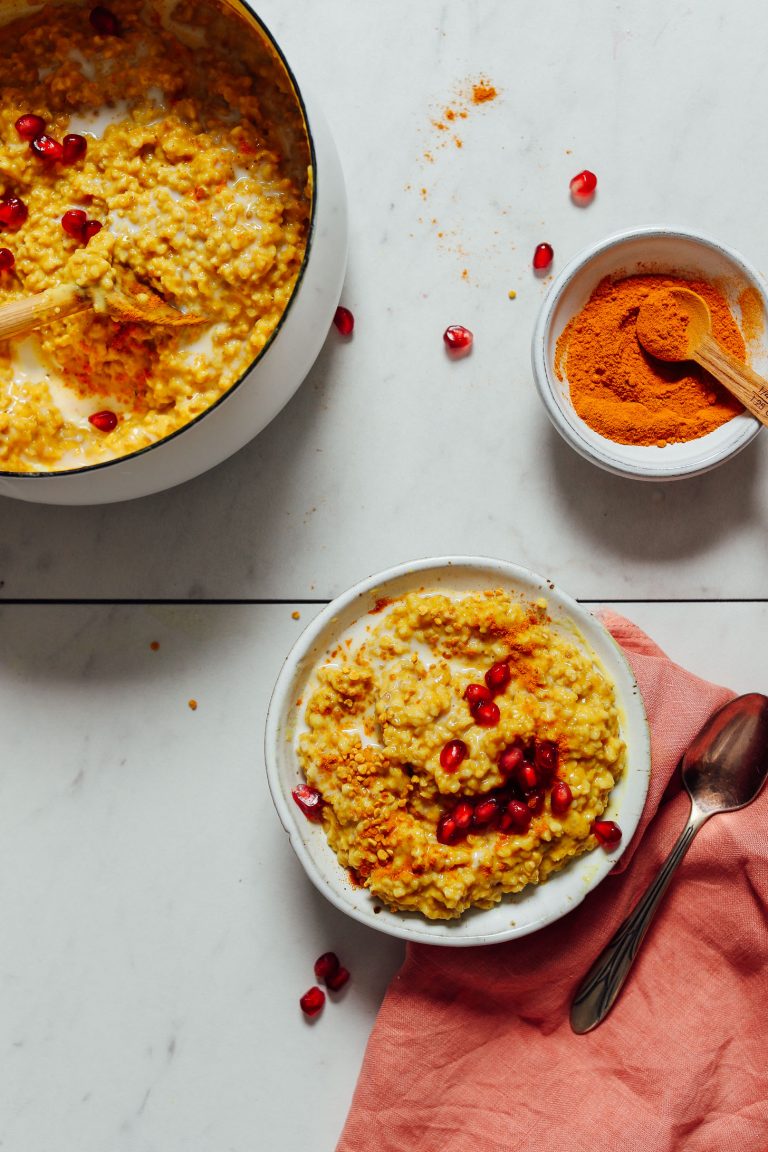 Why We Love It: Cozy breakfasts are highly underrated and make for a great opportunity to start your day with a good amount of protein. When you top it with fresh fruits and add in creamy ingredients like Golden Milk, waking up will be a breeze.
Hero Ingredient: Fresh pomegranate seeds are the best burst of flavor.
This post was originally published on February 17th, 2022, and has since been updated.